Careers & Employability
Welcome to the Stone Lodge School careers area.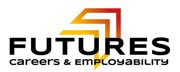 We are members of the Kent and Medway Careers hub. We have a distinct careers programme that includes a range of experiences of workplaces, employer visits, and talks from specialist working in various sectors. This is combined with a whole school approach to careers learning within the curriculum to help our students appreciate the relevance of subject knowledge and skills in the workplace and understand the progression routes that are available.
Making well-informed decisions about their future careers and subject choices includes access to information about future career prospects and employment possibilities through tools such as Unifrog. To explore our offer for each year group in more detail please click on the following links Students, Parent/Carer and Employers
The School welcomes external providers and employers speaking with our students about career pathways as detailed in our Provider Access Policy.
Please contact gtiddy@stonelodgeschool.co.uk to arrange this or to discuss how you can develop links with our school to support our students career aspirations.
Evaluating the impact of the careers programme to ensure that it is effective and that students are making the most of the opportunities it provides is a vital part of our careers programme. We seek feedback from students and regularly review and reflect upon our provision. As the school grows our programme will adapt accordingly.
We hope that you have found this information helpful, please do let us know if you have any thoughts or feedback or can support Stone Lodge School by sharing your career journey. Lastly, if you are an alumnus of the school, we would invite you to follow us on LinkedIn.
Contact us

Mrs G Tiddy Assistant Head Teacher and Careers Leader
Mrs Tiddy is the first point of contact for all careers related matters and can be contacted via email gtiddy@stonelodgeschool.co.uk or by telephone on 01322 240350
We value input from parent/carers and businesses so if you are willing to contribute to our careers programme please email the careers leader.
To view our Careers Education and Guidance Policy, please click here