PTFA
Welcome to the area for Parents, Teachers and Friends of Stone Lodge School.
All Parents and Carers automatically belong to the 'Parents, Teachers & Friends Association' (PTFA), but being a 'Friends' association, membership is not confined to Parents and Teachers, but is extended to include other family relations and members of the public who have been approved by the Committee. We aim to hold up to six Committee meetings a year and one Annual General Meeting (AGM). Everyone is welcome to attend any of our meetings.
We organise a varied programme of events for both students and parents throughout the year which raise funds to provide additional resources for the students which cannot be met from existing school budgets. We are always looking for new ideas for fund-raising events so please get in touch if you feel there is something we should try.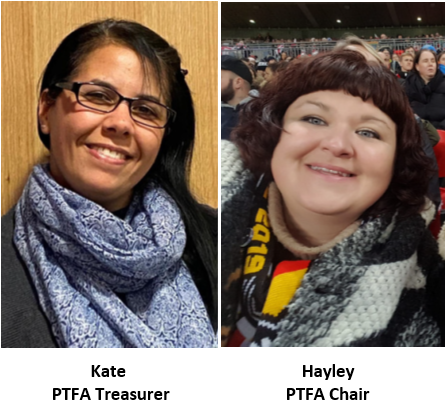 ---
Supporting the Parents, Teachers & Friends
Joining in activities – In addition to organising our own functions, we also support the School by providing refreshments at school events. All these activities are only possible with the help of volunteers – so if you can help, please get in touch.
Stationary Shop - Fully stocked pencil cases are available to purchase on ParentPay between October to June. These are £5 per case and we aim to have these available for collection within two weeks. There is also a stationery 'top-up' shop available from reception, with a suggested donation per item from 50p (dependent upon item).
Company Sponsorships and Match Funding - We would like to hear from anyone who works for a bank or building society, or other company that provides a 'match funding' scheme, or offers Sponsorships or Grants.
What is Match funding? It is an informal, albeit corporate, arrangement between a company and their employee which maximises the fundraising efforts of individual PTFA volunteers. Not all companies offer matched funding but those that do will pledge a sum of money relating to the amount their employee has raised for or donated to the charity of their choice. If you work for a company that offers match funding, and you volunteer to work at one of the stalls at our PTFA event and profit made by the stall is £100, your employer will then match this amount with a further £100
'Pre-Loved' School Uniform Shop - We currently have a small range of pre-loved uniform in excellent condition for sale at very reasonable prices. Please do consider donating any items of uniform that your son or daughter has grown out of – simply drop any items off at our school office, the more donations we receive the better selection we are able to provide for our school community. All pre-loved uniform payments are processed through ParentPay. You are welcome to contact our PTFA for a list of our current availability. Email ptauniform@stonelodgeschool.co.uk
Stone Lodge School Lottery Draw – This lottery has been set up specifically to raise money and make a difference for our children!
It's a fantastic way to bring Parents, Carers, Friends, Teachers and the wider community together, in partnership with our school, and at the same time give something back. We aim to raise funds that can support and enrich the education of our children and to provide extra resources to enhance the school environment.
Your support is greatly appreciated and we wish you good luck! Click here to enter
Easyfundraising - Earn monies for Stone Lodge School when you shop online - at no cost to you! Click here to get started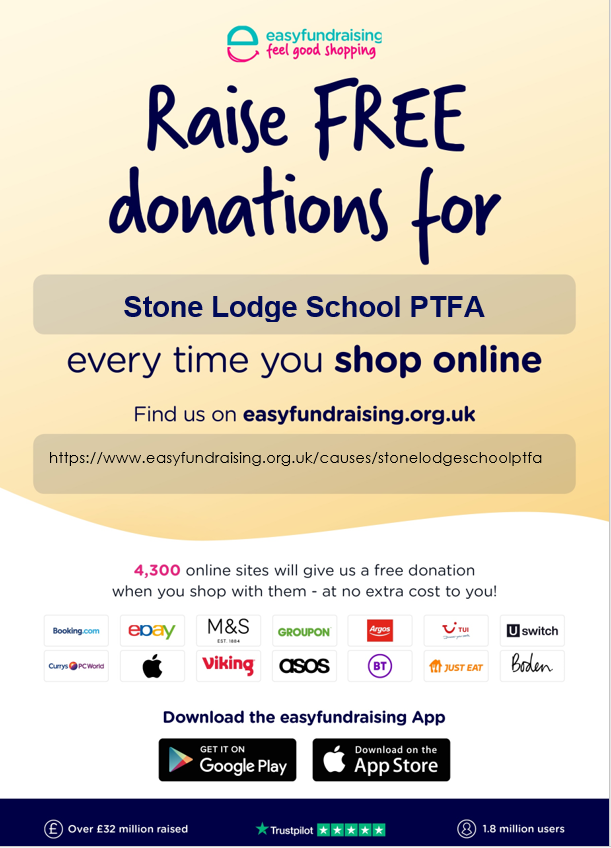 Joining our PTFA. We welcome new members to join our group. There are a number of ways to get involved, on a regular or ad-hoc basis .. as much or as little time as is convenient for you. Email ptatreasurer@stonelodgeschool.co.uk to find out more.
---
If you would like to contact our Chairman please email here with your enquiry. We look forward to working with you!