PTFA
Welcome to the area for Parents, Teachers and Friends of Stone Lodge School.
All Parents automatically belong to the 'Parents, Teachers & Friends Association' (PTFA), but being a 'Friends' association, membership is not confined to Parents and Teachers, but is extended to include other family relations and members of the public who have been approved by the Committee. We hold five to six Committee meetings a year (usually on a Wednesday evening) and our Annual General Meeting is in October. Everyone is welcome to attend any of our meetings.
We organise a varied programme of events for both students and parents throughout the year which raise funds to provide additional resources for the students which cannot be met from within existing finances. We are always looking for new ideas for fund-raising events so please get in touch if you feel there is something we should try.

---
Supporting the Parents, Teachers & Friends
Joining in activities – In addition to organising our own functions, we also support the School by providing refreshments at Open Days and evening events. All these activities are only possible with the help of volunteers – so if you can help, please tell us.
Company Sponsorships - We would like to hear from anyone who works for a bank or building society, or other company that provides a 'match funding' scheme, or offers Sponsorships or Grants.
'Nearly New' School Uniform Shop - We will be offering a range of second-hand uniform in excellent condition for sale at very reasonable prices. Please do consider donating any items of uniform that your son or daughter has grown out of. For details & Price List contact School Reception or email your requirements to Andrea
Stone Lodge School Lottery Draw – This lottery has been set up specifically to raise money and make a difference for our children!
It's a fantastic way to bring Parents, Carers, Friends, Teachers and the wider community together, in partnership with our school, and at the same time give something back. We hope to raise funds that can support and enrich the education of our children - we aim to provide extra resources for the children and enhance the school environment by supporting the development of a wellbeing space for the children.
Your support is greatly appreciated and we wish you good luck! Click here to enter
Easyfundraising - Earn monies for Stone Lodge School when you shop online - at no cost to you!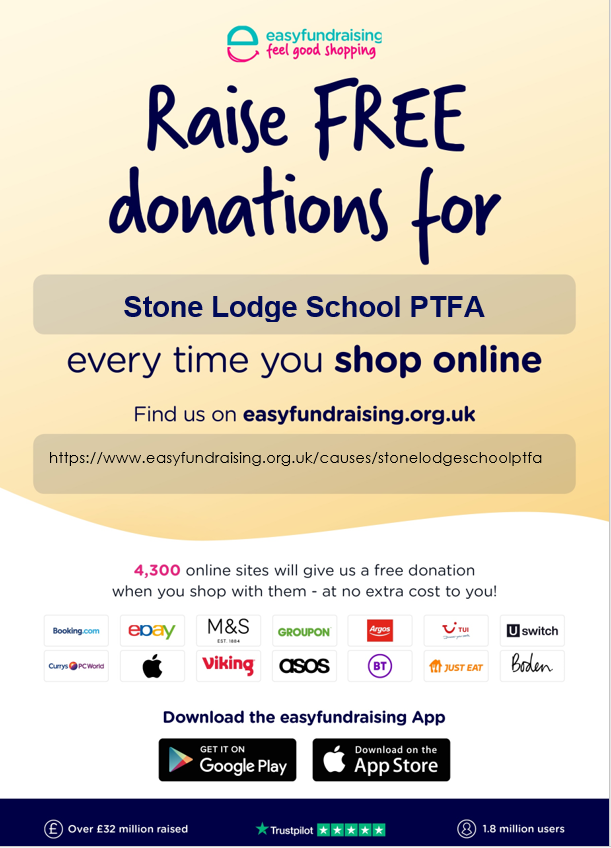 Joining our PTFA. We welcome new members to join our group. There are a number of ways to get involved, on a regular or ad-hoc basis .. as much or as little time as is convenient for you. Email Andrea to find out more. Our latest PTFA Newsletter can be found at the bottom of this page
---
If you would like to contact our Chairman please email here with your enquiry. We look forward to working with you!