Blog week ending 30th September
Posted on: 30/09/2019
Dear Parents/Carers,
This week, I would like to share news and updates from our Art and Engineering lessons.
In Art at the moment we are working on the formal elements of Art, such as colour and tone. We will then be exploring pop artists to explore the various ways colour and tone can be combined to extend the range of texture and styles in artwork. Using Pop Art as our inspiration we will be making our own mixed paper collages using PVA glue and coloured paper. Students will also learn about onomatopoeia to help choose the word and theme of their art work (Onomatopoeia refers to words that either sound like, or are originated from that object, such as 'cuckoo' and 'sizzle')
Additionally, Miss Maxwell's classes will have the opportunity to enter a competition called 'Vans Custom Culture' where students will design their own Vans shoe. These designs will then be submitted to Vans, and if chosen, produced and sold in Vans stores.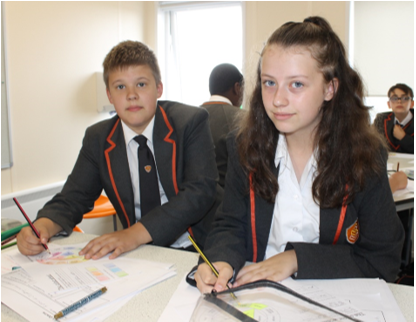 In Engineering, students are studying Architecture. In practical lessons to support learning students are building their own scale models of their dream classrooms. Skills mastered are; using scalpels to cut templates from foam board and learning to read engineering drawings to make sure the measurements are accurate. I will share a selection of finished models in a later blog.
We are extremely proud of the students who have been presenting at our Open Events. They are all incredibly articulate and confident speakers who have been sharing their experiences of life at Stone Lodge School with prospective students and their families and carers. All are doing an amazing job, and we have already had extremely positive feedback from visitors to our school – what better way to learn about a school and its opportunities than from its own students!
Our student representatives are pictured below and are (from left);
Archie, Shamil, Jack, Ava, Amber and Anna with Mr Barnett.
Best wishes,
Gavin Barnett