Blog week ending 10th September
Posted on: 10/09/2021
Over the next few weeks I will be introducing our new staff to you via the pages of this blog, and hopefully, you will all have to opportunity to meet them in person at a future school event.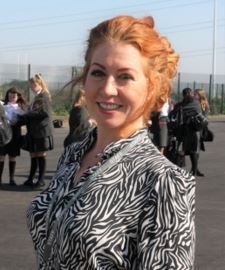 Miss Ryan joins us as Lead Teacher of Performing Arts and in the lesson pictured below has been introducing our Year 8 students to the different areas and terminology of the stage; such as auditorium, wings and upstage. Whether students have roles as actors, directors, writers or set designers each will need to provide precise direction to the location of each scene and performance. In the photo below students are taking part in teamwork exercises as they learn how each discipline of a production works together.
Miss Ryan, Lead Teacher of Performing Arts. "It's my absolute pleasure and privilege to be joining Stone Lodge School this September to launch our exciting and diverse curriculum of Performing Arts for our students. Before becoming a Teacher, I spent over 15 years as a professional Singer, Actor, Producer and Writer working in across Theatre, Television, Musical Theatre and Stand Up Comedy. I've worked for many years leading Masterclasses for both young people and professional performers on learning skills needed for this exciting Industry! The beauty and joy of teaching Drama is its ability to inspire and build confidence that can be transferred into all areas of life at school and beyond. The Performing Arts Department will have a strong focus on creating links with the Creative Industry and will provide our students with the knowledge and skills for Key stage3, GCSE and professional life. I can also confirm that will be creating some very exciting school productions which I would be delighted for friends and family to attend, so watch this space!"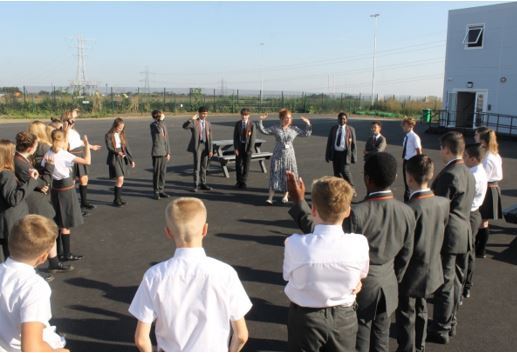 Mrs Heidi Pickard joins us as Head of PE and is already putting our students through their paces! Whilst we await the competition of our new sports facilities we continue our PE lessons and sports fixtures in the wonderful new Dartford Rugby Club (next to the school). Pictured, Mrs Pickard teaching the value of warm-ups and drills ahead of their sports activity (today, hand ball!)
I joined Stone Lodge school in September 2021. I am so excited to become a member of this amazing community. Prior to joining the school, I worked in schools across Dartford, South East London and East London. During my career, I have been fortunate to take time out to travel Asia and spend three years living in South Korea. At Stone Lodge school I look forward to not only developing students' sport knowledge and performance, but also helping them to create lifelong habits to keep fit and healthy. Outside of school I enjoy playing hockey and spending time with my young family.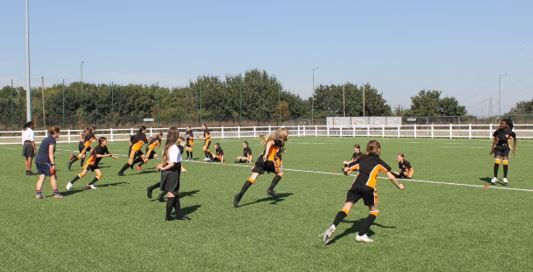 Our new building is coming on at a pace! Specialist fittings and facilities are now being installed including science laboratories and sports equipment which really gives us a sense of how amazing it will be when we move in later this academic year.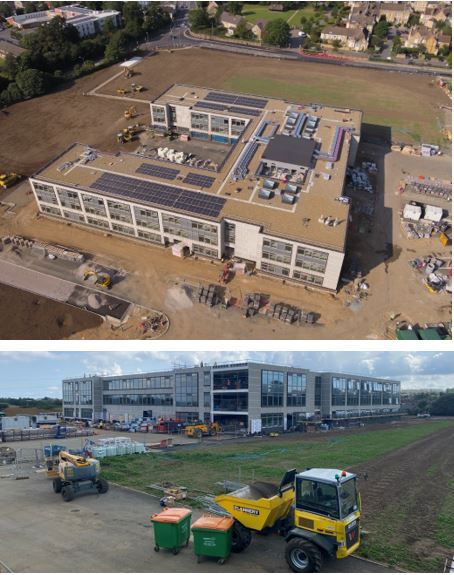 Our new Year 7 students thoroughly enjoyed our summer school which gave them all the opportunity to meet with their teachers and fellow students ahead of joining us in preparation for new academic year. Students were involved in a wide range of stimulating activities including scaling a rock-climbing wall, learning about visiting birds of prey and sports sessions as well as taster Mathematics and English lessons.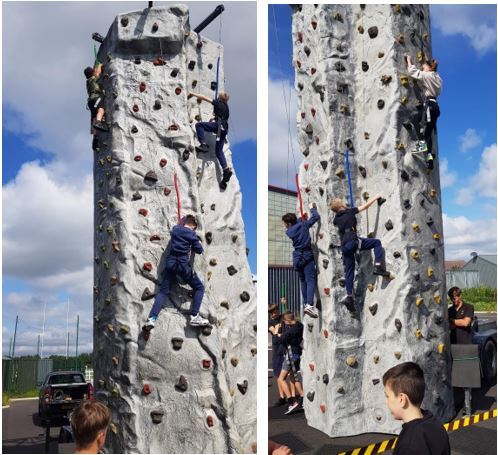 The Knowledge Organisers for each Year group are now accessible on the website, please click here for more information on our Knowledge Organisers and to download the documents.
We are all justifiably proud of our school community and what we collectively achieve on behalf of our students and staff, however it is always gratifying to see those achievement acknowledged by those outside of our school. The Pearson's National Teaching Awards are a charity with the aim of recognising and celebrating excellence in education and recently I was delighted to share the news that Mrs Artmann had received a certificate of excellence for the 'Lockdown Hero' Award. I would now like to share the news that Stone Lodge School also received a nomination for 'Making a difference – Secondary School of the Year'.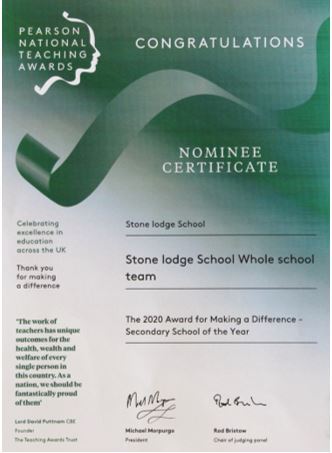 Forthcoming;
Our professional school photographers, Braiswick Photography have taken 'first day' school portraits of our Year 7 students which will be available to purchase. Our students will be bringing home proof copies. Purchases can be made directly by going online using your child's unique reference barcode and passcode number or by returning the proof card to Stone Lodge reception.
Year 7 Expectation Evening - 13th September, 2021. Forms 7A, B &C at 6-7pm and Forms 7D, E & F at 7-8pm
Year 6 Open Events. We are delighted to invite current Year 6 students (for entry into Year 7 September 2022) and their families into our school to meet our Head Teacher, students and staff.
Open Mornings on the 12th, 14th and 15th October from 9.20am. To book a place please email admissions@stonelodgeschool.co.uk with your name and contact details and your preferred date.
Open Evening 11th October from 5.30pm to 8pm (Head Teacher talk at 6pm and 6.45pm) No booking required.
Best wishes,
Gavin Barnett
Head Teacher