Blog week ending 23rd April
Posted on: 23/04/2021
Welcome back, I hope you all had a lovely Easter break. This term we hope to begin to re-introduce more group activities and after school clubs in line with government advice. Mrs Maxwell has already confirmed a schedule of exciting clubs including;
Bloodhound – this is an engineering club incorporating the 'Engineering Ambassadors' Student Leadership Programme (you can read more about this in the below item). This will encourage students to take risks, try new skills and work in teams to come up with innovate and creative ideas. The theme is 'A More Sustainable World', so thinking about how to solve real-life problems.
Animal Academy – the Royal Veterinary College run as animal academy for students in Years 8 - 13. RVC's Animal Academy supports people from under-represented backgrounds in higher education, to reach their goals of studying and working with animals. Our Students will have access to exclusive help, advice and events about animal careers, going to university, and of course learning from the RVC animal experts!

Design a stamp competition – This is a competition that Royal Mail are running where students design a stamp that commemorate the heroes of the pandemic. The winning entry wins £1,000 for their Art Department and will be able to decide with Mrs Jackson what they would like to purchase with the money.

As more clubs are confirmed I will include them in my blog and posters will be displayed around school.
Our Student Leaders have just started working towards their Student Leadership Accreditation Bronze Award in conjunction with SSAT (the schools, students and teachers' network). All our students have the potential to be leaders for the future and it is our intention to encourage and nurture that potential with the introduction of the Student Leadership Awards. Our plan is to expand the Student Leadership Awards in the next academic year, allowing for more students to undertake the qualification
Students must gain 'evidence' across 10 key areas that are underpinned by the schools RIDES values and collate all evidence into their Student Leadership folders. Evidence can be gained via their roles as subject ambassadors as well as whole school activities such as fund raising, or representing the school at external events and will fall into three qualifying categories; Developing Myself, Contributing to my Community and Working with Others. At the end of the process, the students peer moderate each other's evidence to determine the level and outcome of the qualification. Undertaking the SLA qualification allows students to demonstrate their leadership capabilities both inside and outside school, working on their communication, teamwork, attitude and responsibility.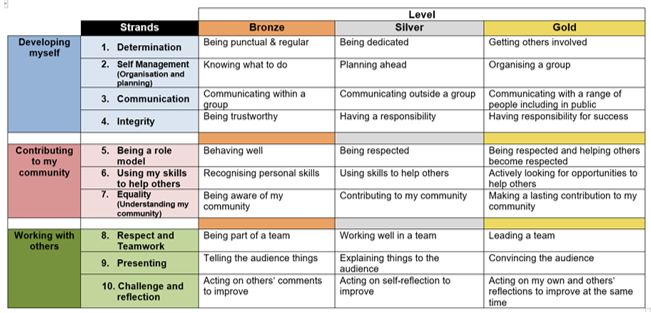 Year 8 Art Students have been researching portrait artists as part of their homework. Students then choose an artist whose style they particularly liked and then re-create a section from one of their paintings or drawings. The 'take it further' element of the task was to record the reasons for selecting the artist then to explain what it was that they particularly liked about their work and what stood out to them.
The excellent work below was submitted by Emily C and Anna K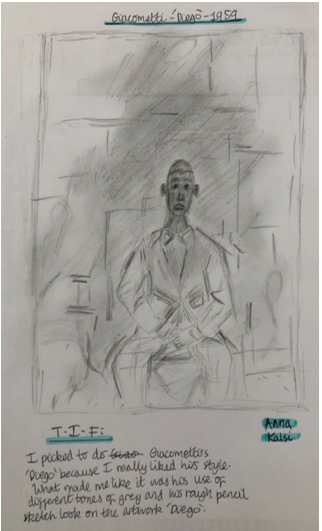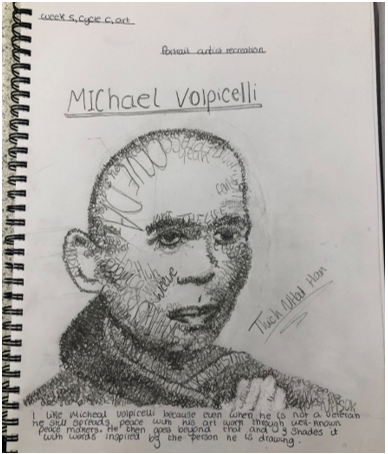 The latest drone pictures taken of our new building were taken at the perfect angle to illustrate the progress of our building in relation to the final realisation. Once we are in a position to do so, (and all the necessary safety regulations have been cleared) Mrs Maxwell is hoping to take some of her engineering students over to our new building site to meet and discuss the building with our structural engineers. I will keep you posted!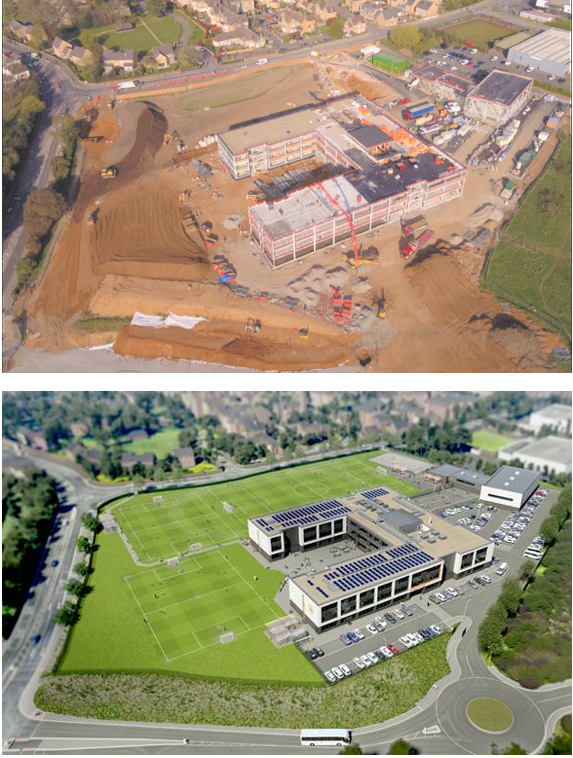 Please join me in congratulating our IT Manager, Mr Carter, and his wife on the birth of their gorgeous daughter Annabel. Annabel was born during the Easter holiday on the 7th April weighing an extremely healthy 8lb 14oz. As you can clearly see from the photo .. she is absolutely perfect!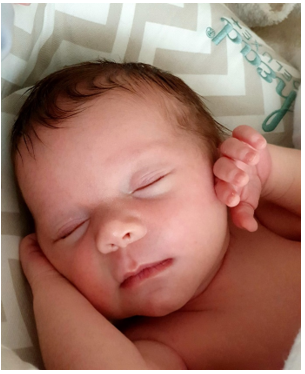 Best wishes,
Gavin Barnett
Head Teacher