Blog week ending 7th October
Posted on: 08/10/2019
Dear Parents/Carers,
It has been an absolute pleasure to invite so many families into our school during our Open Events. Our students are, without doubt, our greatest assets when presenting our school to potential new students and their parents/carers. Our student ambassadors greeted visitors, acted as guides, discussed their experiences of Stone Lodge School, led classroom activities and experiments with Y6 students and answered countless questions. We are immensely proud of them all.
October is Black History Month and to mark it, we have been learning about famous black men and women who have achieved greatness in their field and have made a positive contribution to society. Our theme during Form Time is Equality.
We have been learning about the lives and achievements of the below;
Martin Luther King
Nelson Mandela
Lillian Bader
Rosa Parks
Mae Jemison
The Museum of London is running a special exhibition to mark Black History Month (running from 7th - 30th October.) The exhibition includes a range of talks and activities, including one about Mary Seacole for whom one of our school Houses is named. More details on the exhibition can be found on their website here
Congratulations to Anna K of 7C who has won our school 'Vans Custom Culture' competition with the wonderful design below. Her design will be submitted to Vans, and if chosen, produced and sold in Vans stores.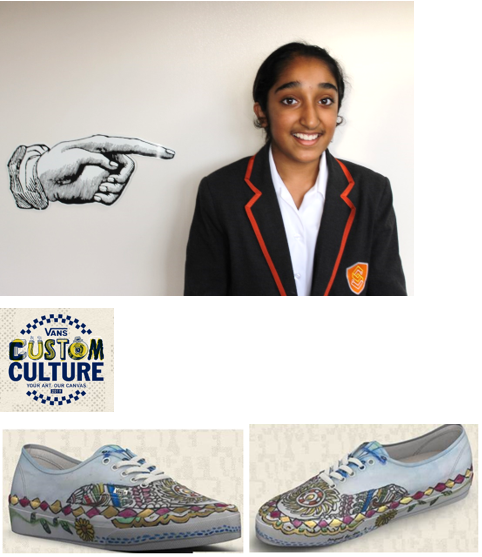 Forthcoming school trips (including KidZania on 18th October.) Please complete the relevant consent form on ParentPay and ensure that payment is received by 11th October. A copy of the trip letter can be found on our website under 'Correspondence' here
ParentPay have a parent support section which can help answer any questions regarding the service, it can be found on their website here. Please ensure that you monitor your daughter's/son's account to manage their usage and ensure they have sufficient funds.
Best wishes,
Gavin Barnett