Blog week ending 9 Sept
Posted on: 10/09/2019
Dear Parents and Carers,
Welcoming our first ever Stone Lodge students has been such a pleasure and our opening week was a huge success. We will be delivering lots of activities and special lessons to celebrate our opening, which the students will be fully involved in.
It was great to see so many of you yesterday evening at our Expectations Evening, where I received excellent feedback on the useful information given regarding assessment, homework, pastoral care and student expectations. We will maintain an exceptional school culture if all stakeholders support our high standards. The full presentation can be viewed here
I have spent as much time as possible walking the school and have observed a number of excellent learning where the students are working hard and enjoying their excellent lessons. There have been no behaviour issues and this must continue.
Students now have their knowledge organisers with weekly practice tasks for each subject to help them embed their learning for the assessments we do in week eight of each of our ten-week teaching, learning and assessment cycles. I know that parents will support their children in working hard at these to ensure that they make maximum progress. For any families who would like further guidance on how to support their child with knowledge organiser homework, we will be running a session from 5-6pm on Monday 23rd September at school.
The House System. Each house is named after a remarkable historic figure who overcame various obstacles to achieve greatness. Each has made a significant contribution to life today, whether via invention or action, these people embody the ethos of Stone Lodge School. During this term we will be liaising with the students to develop the identity and motto for each house as well as elect student captains.
Our Stone Lodge Houses are;
Stephen Hawking (Science) was a theoretical physicist, cosmologist, and author. Hawking was diagnosed with a slow-progressing form of motor neurone disease that gradually paralysed him over the decades. His determination was such that even after the loss of his speech, he was still able to communicate through a speech generating device and work as the director of research at the Centre for Theoretical Cosmology at the University of Cambridge. He died on 14 March 2018, after living with the disease for more than 50 years.
Thomas Edison (Technology) was an American inventor who has been described as America's greatest inventor. He developed many devices such as electric power generation, mass communication, sound recording, and motion pictures. He was one of the first inventors to apply the principles of organised science and teamwork to the process of invention, working with many researchers and employees respecting the contribution of all collaborators in his work. Edison was almost completely deaf, yet he considered his deafness a blessing as it 'kept conversations short so he could concentrate on his work!'.
Amy Johnson (Engineering) was an English pioneering female pilot who achieved worldwide recognition when, in 1930, she became the first woman pilot to fly solo from England to Australia Flying solo or with her husband, she set many long-distance records during the 1930s. She flew in the Second World War as a part of theAir Transport Auxiliary and died during a ferry flight. In her lifetime she was a fearless aviator who did much to promote equality for women.
Mary Seacole (Medical Science) was a British-Jamaican business woman and nurse who set up the "British Hotel" behind the lines during the Crimean War. She described this as "a mess-table and comfortable quarters for sick and convalescent officers", and provided treatment for wounded servicemen on the battlefield. She was posthumously awarded the JamaicanOrder of Merit in 1991. In 2004 she was voted the greatest black Briton. Despite prejudice Seacole overcame all obstacles to provide help to the wounded, she was extremely popular among service personnel for her integrity, doing the right thing even when unthinkable prejudice stood in her way.
This term's extra-curriculum after school and lunchtime clubs have been shared with the students. In additon, we offer Breakfast Club and Homework Club. For further details please see our website.
A special thank you to Anna K who made this wonderful poster for her first day at school, it has pride of place in my office!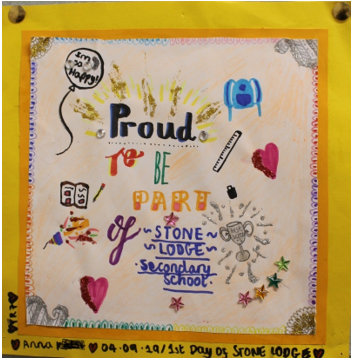 Best wishes,
Gavin Barnett